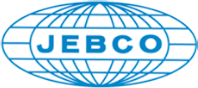 ABOUT
JEBCO

Our Core Team:
President : D. Wayne Turner
Wayne took over management of JEBCO in 1989 following 22 years in the industry. Prior to joining JEBCO, Wayne worked in various capacities for Seiscom Delta, Geophysical Data Center and Geo Space. Wayne graduated in 1971 from the University of Houston with a degree in Electrical Engineering. He is active in various charitable organizations, primarily the Houston Livestock Show& Rodeo and Houston Children's Charities.
Chief Financial Officer: T. Patrick Wigger
Pat has spent 36 years in the oil industry, all in seismic exploration. He worked for 16 years in varying roles with Seiscom Delta firstly in the UK, then moving to Singapore as Regional Controller for the Far East and Australasia. He transferred to Houston as Group Treasurer for Seiscom Delta and then Grant Norpac. Pat Joined JEBCO in 1990 as Financial Director.
Geophysical Consultant: Robert S. Dammer
Rob is a Geophysical Consultant to JEBCO who has almost 40 years experience within the geophysical industry in a variety of capacities, both domestically and internationally. His foreign assignments include Iran, Germany and England. His domestic work began with offshore Gulf of Mexico and includes all of the lower 48 and Canada. He began with seismic processing, went on to acquisition both on and offshore, and finally to generating and selling non-exclusive seismic surveys.
Legal Counsel: W. Jay Jones
Jay is a part-time legal consultant to the JEBCO group of companies since 1999, with extensive oil & gas industry experience.
Accountant: Angela Carter
Angela graduated from University of Southwestern La in December 1983. She went to work for Texaco Inc. immediately following graduation and continued there for 18 years. Angela has worked part-time for Jebco LP since August 2005. She is a licensed CPA.
Administrative Services Manager: Janet Arter
Janet worked for several law firms in the City of London before joining Chelsea Football Club as Club Secretary, where she was responsible for all administration, personnel, contracts and public relations for 8 years. She joined JEBCO's London office in 1990 and is involved in a variety of functions within the company including co-ordination of all office support services, marketing, financial and contracts as well as PA support to Wayne Turner.